I have to start by saying anyone who drives a
BMW Z4 roadster
with the top up on a day like today doesn't deserve one and should give it to me.
So happy Mother's Day to all of you in blogger-land!
Kristen
,
Lisa
,
Nancy
,
Ali
, MK, Georgie and the book club girls, my sissy-poo who is having her 1st Mother's Day, and to all I am forgetting. Although I have to work, I was treated to all three of my babies, dog and hubby piling into my room with fresh coffee and homemade presents.
My Littlest One gave me a necklace of hand-formed clay beads, dried and painted pink on the thread. (My third set, btw. LOL) My son wove me a trivet, and also made me earring hubby commissioned from beads they bought in Tahoe.
My daughter presented me with a placemat, made up of a three-page essay, and my photo inside a trophy saying "Mother of the Year." See, our town actually has a "Mother of the year" contest, and every spring, all the grade school children write essays on why their mother should be picked. Now, I know this is hard to fathom but I have never received this honor. :p It would be nice, but only because I know how much it would mean to whichever of my kids penned the winning essay. Girlie girl was disappointed this year I think, as her paper wasn't chosen yet again, and this is her last year. But it is no big deal, because what could be more wonderful than reading about how special you are through your children's eyes?
Perhaps to compensate for my lack of any official honor, she got up at 5:30 AM to finish making me a crown.
Paula M., eat your heart out.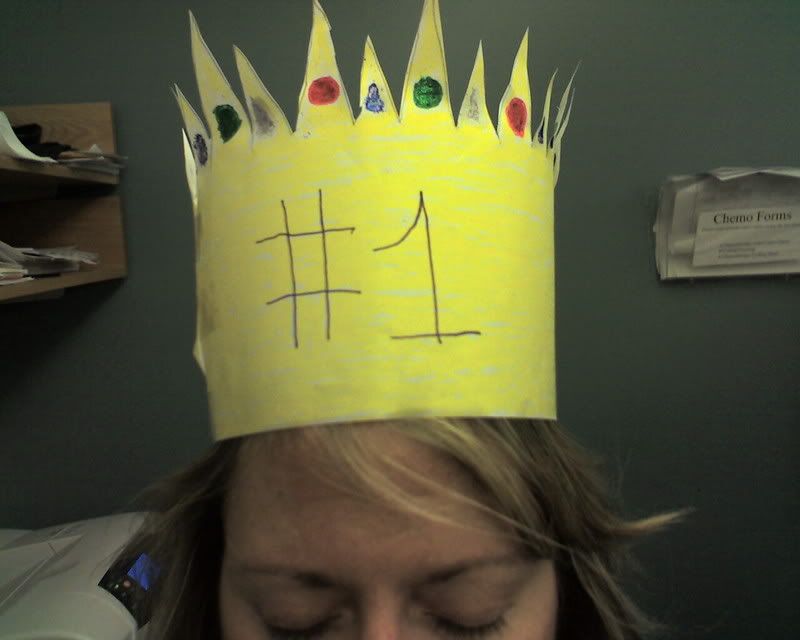 Have a great week everyone.
G.